11 Easy Things to Make With Magnetic Balls (11 Ideas and Tips!)
Magnetic balls are some of the country's most popular gifts for kids and teenagers. People love them because they're small enough to fit in a pocket. They come in various colors and sizes, perfect for building shapes, toy jewelry, and other fun items.
Parents love magnetic balls because they are the toys older kids want to play with. Also, children still love grabbing hold of magnetic balls to fidget and build lovely shapes and art.
A quick look online opens a world of possibilities regarding what you can make with magnetic balls. Of course, you can build endless geometric shapes, but there are also things like pencil holders and models you can set on desks.
It may seem strange when someone in your family tells you they want magnetic balls for Christmas or a birthday, but it's easy to understand why once you look at the world of possibilities these balls can be used to create.
We've made a quick list of easy things you can make with magnetic balls. Here are some terrific ideas to get you started.
1. A Small Fidget Toy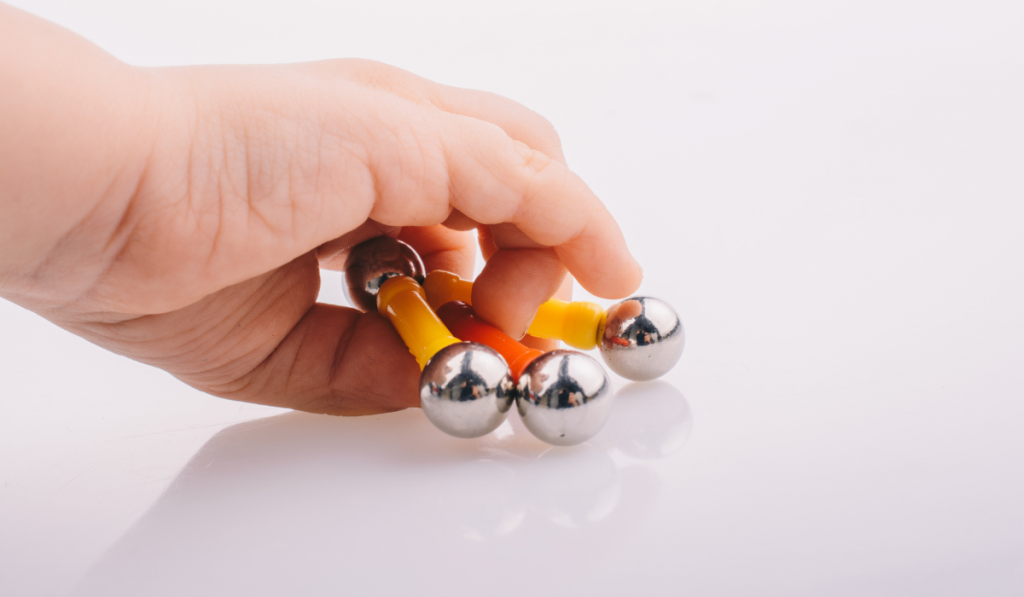 Fidget toys have been a huge blessing for people who need something in their hands to help them focus. With just a small handful of mini magnetic balls, you can keep your hands and mind busy for hours. In addition, it can help calm jittery nerves and keep your mind on something your teacher is saying.
A lot of people use magnetic balls on their desks at work too. They can help you stay focused on tasks longer and use the balls to vent a little frustration when things get stressful.
2. Toy Jewelry
Within minutes of getting new magnetic balls, a child will probably start making bracelets, necklaces, rings, and other jewelry out of them.
Most magnetic balls are colorful. You can buy them in bright green, pink, purple, or multi-colored packs. That comes in handy when you want to make some flashy, fun jewelry.
Have you or your kids ever wanted your ears pierced? Well, with magnetic balls, you can make pretend earrings by putting one magnet on either side of your earlobes. Then, you can look in the mirror to see what they would look like or wear them around as a prank to trick your friends.
3. Mini Figurines
People love making figurines out of magnetic balls on shelves, work desks, or craft tables. You can make small figures of people, animals, and flowers with just a small pack of magnetic balls. If you have more, however, you can start to make intricate designs with hair, facial expressions, and other physical features.
You can change what the people are doing or how they're standing based on your mood for the day. Have some fun with it and make it something you look forward to doing at the start of your day.
4. Small Desk Compartment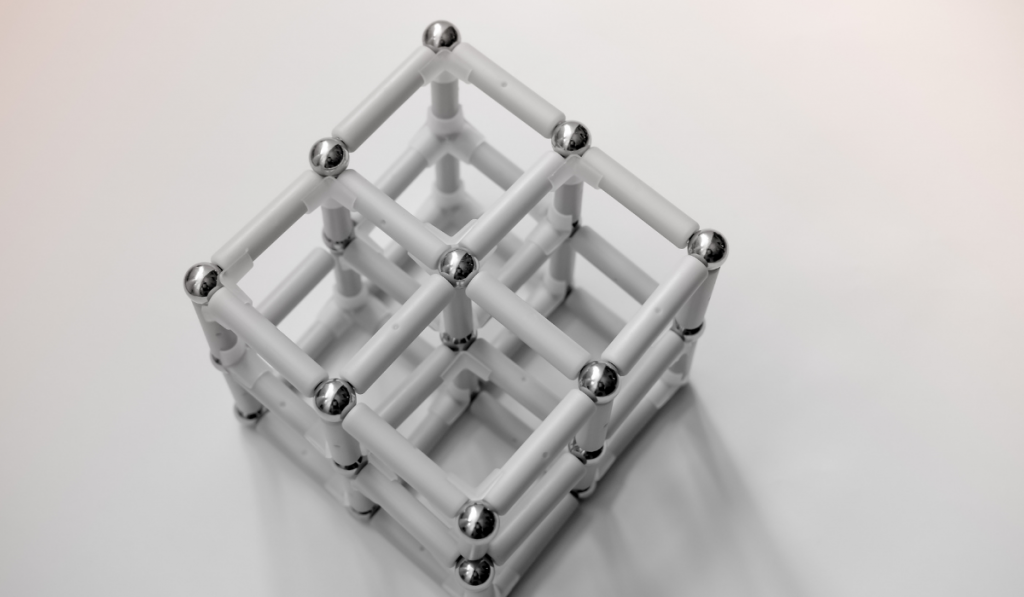 What's cooler than a pencil holder or a place for sticky pads entirely made from magnetic balls? You'll probably need more than just one or two packs to make the container big enough, but with the right number of balls, you can make a cup or a shallow bowl for decoration and storage on your desk.
5. Geometric Shapes
Geometric shapes are some of the first things people make with magnetic balls. It's fun to balance the magnets perfectly to make squares, triangles, pyramids, and rectangles. You can move them in different directions to create unique mosaic patterns.
6. A Table Centerpiece
If you have time and enough magnetic balls, you can build a creative centerpiece for your dining table or coffee table. Create a circular centerpiece with different colors and shape patterns and put it proudly on display in a common area. People will love it and ask where you bought it! You'll be so happy to tell them you made it yourself.
If you're so inclined, you can make a new pattern out of the magnetic balls every week to give you and the family something to talk about. It can become something of a family tradition.
7. A Mini Magnet Soccer Game
Use your magnet balls on an empty table or floor to build a fun little finger soccer game. You can build a small ball out of magnets and some goals. Then, use your fingers to "kick" the ball around.
What's fun about this game is that the ball will stick to the goal once it's in. It's a clever way to spend a few hours with the kids. Just be careful you don't hit the ball too hard, or your balls will go flying!
8. Magnet Flowers
Magnet balls make it easy to craft beautiful flowers for a windowsill or your desk at work. You can buy them in different colors to make the flowers look even more real.
For example, you can use brown magnet balls to build a pot, then use green for the stalk and red for the petals. The magnetic force of the balls is perfect for symmetrical petals that face slightly upward to imitate growing flowers.
9. A Rainbow
Build a perfectly curved rainbow to hang in your window every day. Use different colors of magnet balls to make your rainbow bright and colorful to brighten your day whenever you look at the window.
You can glue the balls in place once they're stuck together and tie a string around the top row. This will let you hang the rainbow on your rearview mirror in your car, or you can use it as a Christmas tree decoration.
10. Use Your Magnet Balls for Chemistry!
Do you love chemistry and building structural formulas? Then, why not make it more fun and colorful by using magnetic balls?
Magnetic balls form the perfect hexagons we all learn about in Chemistry. They can bring your models to life and make learning the subject more enjoyable.
11. DNA Helixes
Magnetic balls are also suitable for science because they are a great way to build a 3D representation of the DNA double helix. You get an idea of the intricacy of the helix once you build one with magnetic balls.
Stay Safe While Using Magnetic Balls
Magnetic balls are made in a perfect round shape, and this makes them so much fun. They stick together well, but they are also weak enough magnets that any child can pull them apart easily. That makes them terrific to play with but also dangerous, especially for little children.
Never let young kids who love to put small things in their mouths play with magnetic balls. It's a severe choking hazard.
Even older kids should know never to put them in their mouths to avoid risks. Never throw them at each other because they're small and hard and can seriously hurt someone.
Also, be prepared to always be on the hunt for some of your balls, especially if you buy them in smaller sizes. Unfortunately, kids have a way of sending them scattering across the floor, so you'll probably find them sticking to your desktop computer tower or the piano bench legs every once in a while.
Have fun with them but stay safe whenever you play with magnetic balls!
Resources