11 Creative Ideas Using Embroidery Thread
You'll always end up with more embroidery thread than you need for a project. Whether you're stitching something on a blanket or making a throw pillow, the amount of thread you buy never seems to match what you use.
What can you do with leftover embroidery thread?
Embroidery thread is well-suited for a range of crafting projects. You can make bracelets, art, rings, charm necklaces, and more.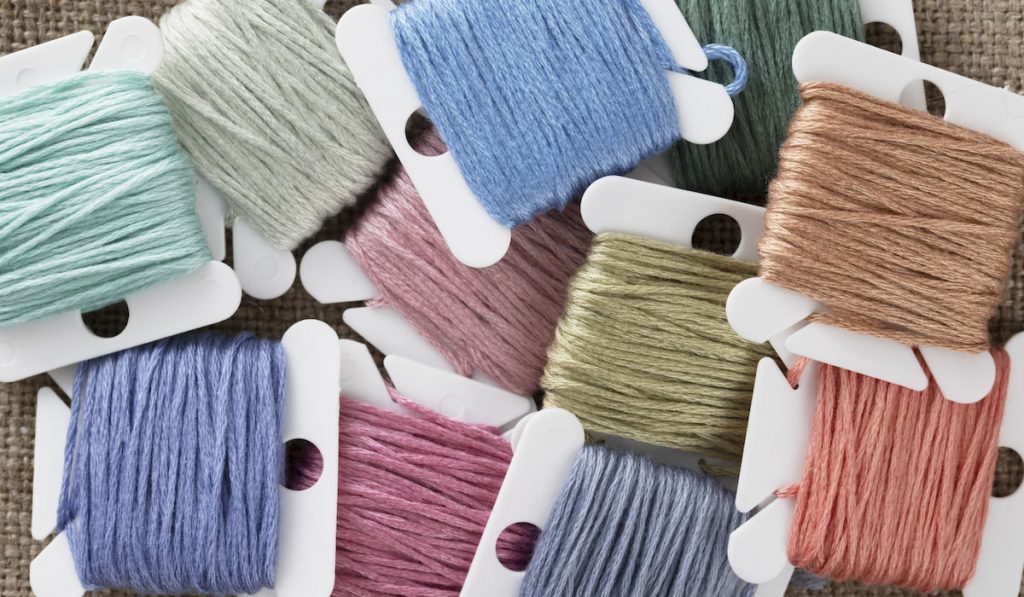 Here are eleven creative things you can do with extra thread.
1. Build Colorful Friendship Bracelets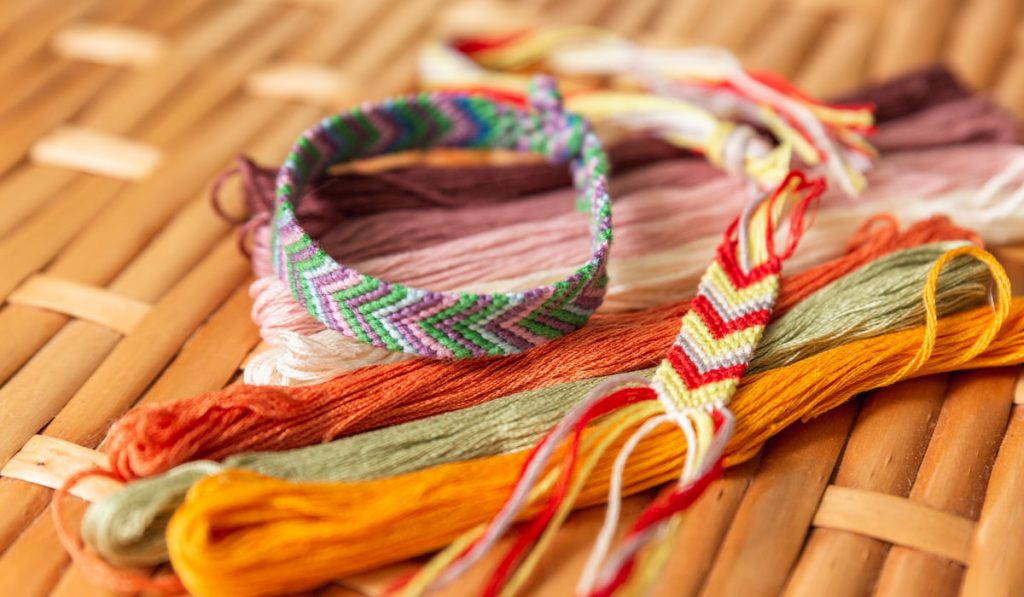 Though they seem to go in and out of style rather quickly, friendship bracelets are great to make with leftover embroidery thread. You can weave several threads together to make creative patterns to cut and share with your friends!
Making your own bracelets is a fun and fantastic way to learn basic crafting.
They're easy to make, and it's a fun family activity if you have kids around the house. They'll love wearing their new creations and sharing them with friends.
2. Wrap Metal Jewelry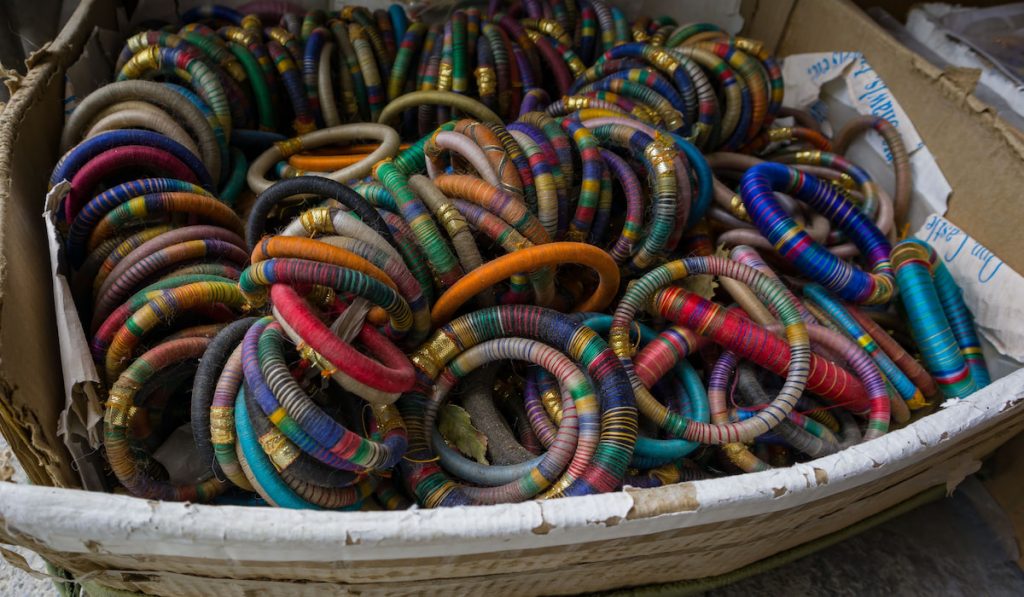 If you want to give your metal jewelry a new look, use embroidery thread to wrap earrings, rings, pendants, and hairclips.
Wrapping jewelry gives it a more bohemian look, and you can add certain thread colors to match jewelry with different outfits.
All you need is a pair of earrings, some thin embroidery thread, and a glue gun.
This is the perfect crafting activity for young kids. You can buy affordable earrings online or go to your local thrift store to pick up a pair.
Breathing new life into jewelry is always fun. You feel like you're bringing something back that otherwise would have been tossed in the trash.
Give it a go with your jewelry and see what cool patterns you can make!
3. Add Flair to Your Furniture
Instead of just wrapping jewelry with embroidery thread, you can also try it around your house.
Wrapping embroidery threads around table legs, lamps, wooden armrests, and other furniture is a terrific way to make your home more unique.
Of course, the larger the furniture item, the more thread you'll need. Even a subtle addition of color is enough to draw people's eyes and start a fun conversation about crafting and interior design.
4. Build a Logo
If you're a budding jewelry designer or want to start building your own handbags, use some leftover embroidery thread to create a personal logo.
With just a short piece of thread, you can create a small logo that you can thread into small jewelry bags, canvas pillows, reusable grocery bags, and more. You could even sew your logo onto t-shirts and hats to bring awareness to your brand.
Even if you're not trying to build a brand, making a logo can be fun, and it's a way to make whatever you're carrying or wearing stand out.
5. Build Thread Feathers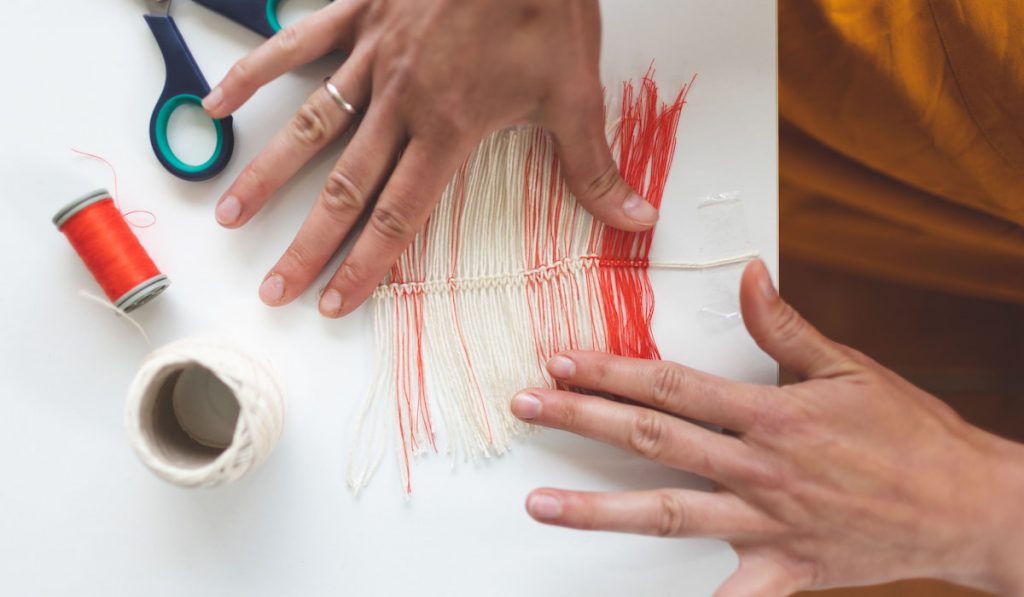 Another use for old embroider thread is to make thread feathers. Feathers are always a nice addition to necklaces and earrings, as they give you more color and size choices.
Thread feathers look amazing when you're moving. You can either let the individual threads blow in the wind or glue them together to keep the shape uniform.
Put the feather on the end of a long chain for a hippie-style look.
6. Custom Keychain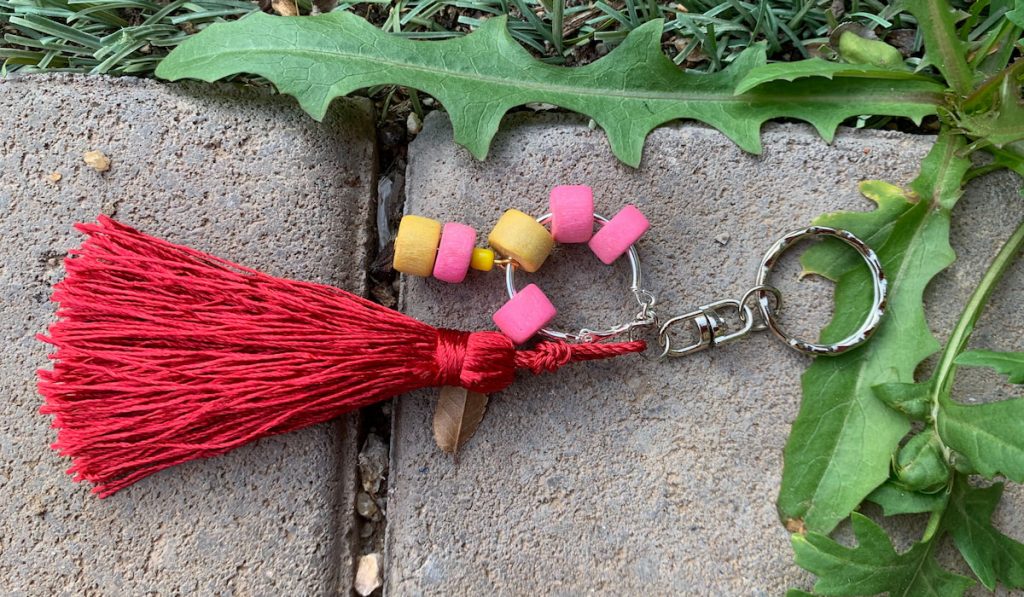 For those friends who don't like bracelets, you can make colorful keychains out of leftover embroidery thread.
You can build a peace sign or a rainbow from your leftover scraps of thread. You don't need a lot to finish this simple crafting project, and it's easy to find keychain clasps online at an affordable price.
This is a great project for family activities or as a fun craft at a children's birthday party. You should be able to start and finish the project in under an hour.
7. Embroider Your Shoes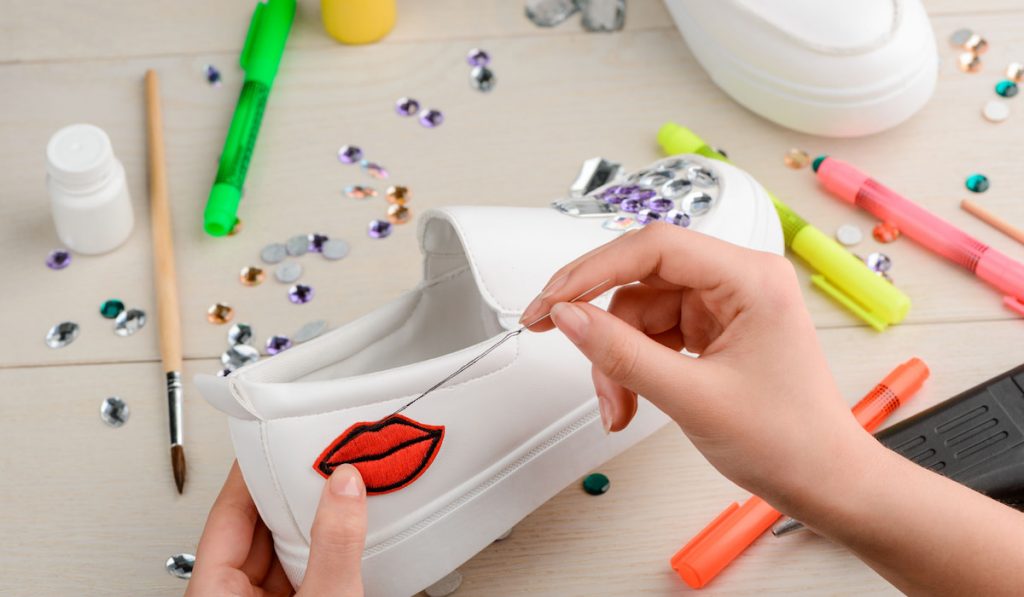 You can make your shoes one-of-a-kind with some basic embroidery thread and a needle.
Think of ways to design your shoes with the colors you have. Stencil the design you want on the shoe before you start sewing.
If you're new to embroidering shoes, then you should start by doing something on the tongue of the shoe or the heel. These can be cool colorful accents that make your shoe stand out.
Later, you'll be able to embroider arrows, suns, numbers, initials, or anything else you'd like!
8. Curtain Tassels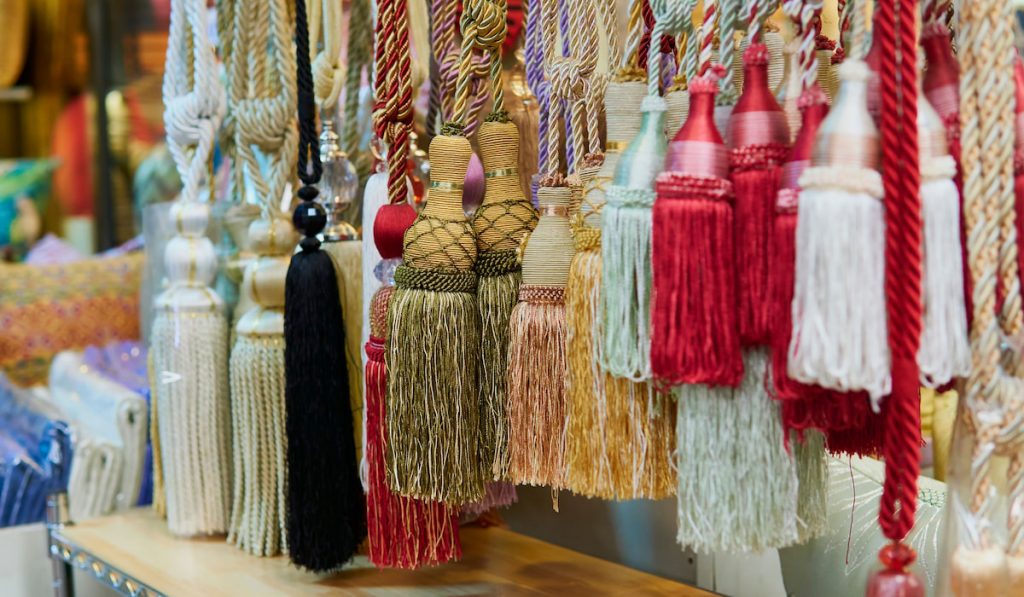 Another crafting project for leftover embroidery thread is making curtain tassels.
You can either attach the tassels to the bottom of curtain rods or to the top of your curtains, where they attach to the rod. The tassels will give your curtains some flair compared to the standard curtains you see in most homes.
9. Homemade Planters
Are you a budding gardener or love to have fresh herbs in your kitchen? Mason jars are great for planting and growing sprouts, but they can sometimes look a little plain.
You can make your mason jars look better by wrapping them in embroidery thread. Even better, you can color-code them to make it easier to know what seeds are in which jar and how much you need to water them.
This is a great way to separate jars if you have multiple kids in the family all trying to grow plants.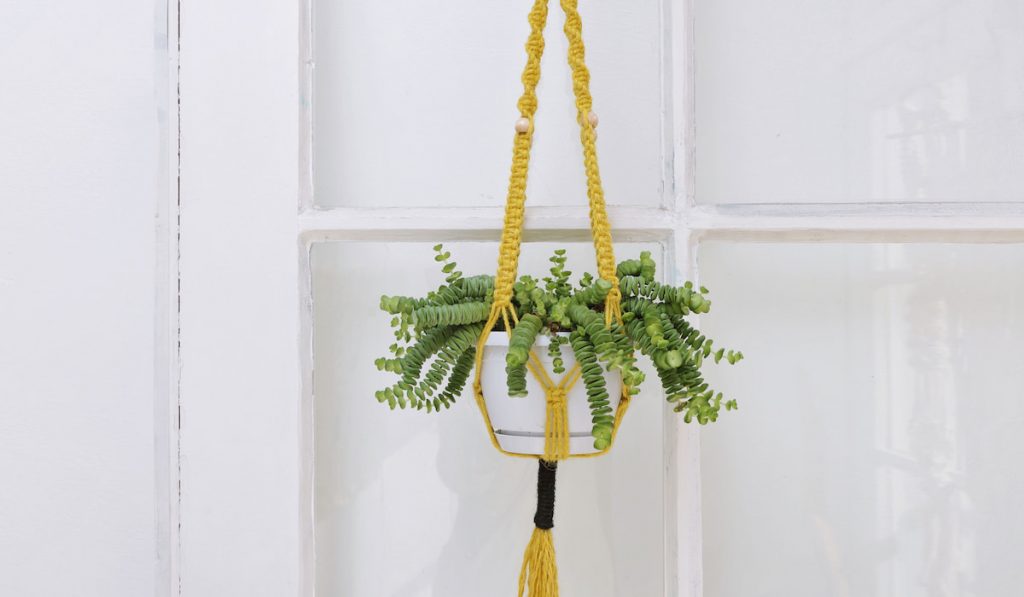 10. Build a Travel History Map
Did you take an epic vacation last summer that you want to remember forever? Using embroidery thread on a map makes for a great trip memento.
You can trace the beautiful national parks you visited and put pins down on the map for your favorite locations or where you met certain people.
Give the map as a gift to friends or family who took the trip with you. It's a one-of-a-kind gift that money can't buy.
11. Wrap Your Sunglasses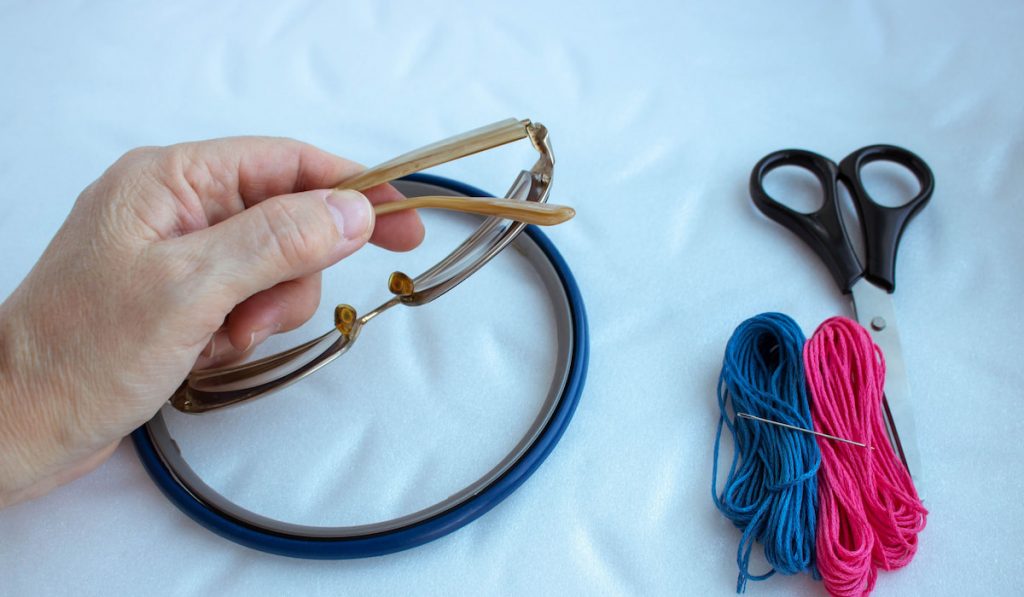 In addition to wrapping jewelry and furniture, you can also wrap your sunglasses to make them more colorful.
You can wrap them with a patterned design or in your favorite solid color. They'll stand out more, and you'll be able to distinguish yours more easily.
This is just another way to express your personal style with the crafting supplies you probably have sitting in a drawer somewhere at home.
In Conclusion
As you can see, there's plenty to do with leftover embroidery thread. With some time and creativity, you can explore new projects you'll love.
In addition, embroidery thread gifts are great, because the receiver knows that you spent time creating something with them in mind.
Think outside the box with your leftover embroidery thread and see what you can create!
Resources