Things to Know Before Buying an Acoustic Guitar (Read Before Buying)
Acoustic guitars come in different styles, looks, and tones. Whether you're looking to upgrade your current guitar or hoping to get the best acoustic guitar you can afford, you may find the selection process overwhelming.
Shopping for an acoustic guitar doesn't have to be daunting once you know what to look for in a quality guitar.
Our comprehensive guide covers some essential things you need to know before buying an acoustic guitar.
7 Things to Know Before Buying an Acoustic Guitar
Here are seven essential things to note:
1. Your budget Determines the Quality of Acoustic Guitar You Get
Having a budget in mind is essential when shopping for a quality acoustic guitar.
While you may be tempted to go for the cheapest option available to save some bucks, these guitars don't stay in tune and don't last long.
The truth is that you get what you pay for when it comes to acoustic guitars.
You may also find that the cheapest acoustics are made from the lowest quality wood that bends with time.
Alternatively, you can opt for a second-hand acoustic guitar if you're low on money. That way, you can find a high-end guitar for half the price.
Be sure to buy from a reputable guitar shop or bring a guitar expert when shopping.
Read guitar reviews and watch guitar demos on YouTube to determine the best guitar within your budget.
2. Acoustic Guitars Come in Different Body Sizes
When shopping online, it's easy to believe that guitars have standard sizes. However, acoustic guitars vary in size, which can also affect the tonal range.
Trying out different sizes is a great way to find one you're comfortable with.
Some of the options available include the following:
Mini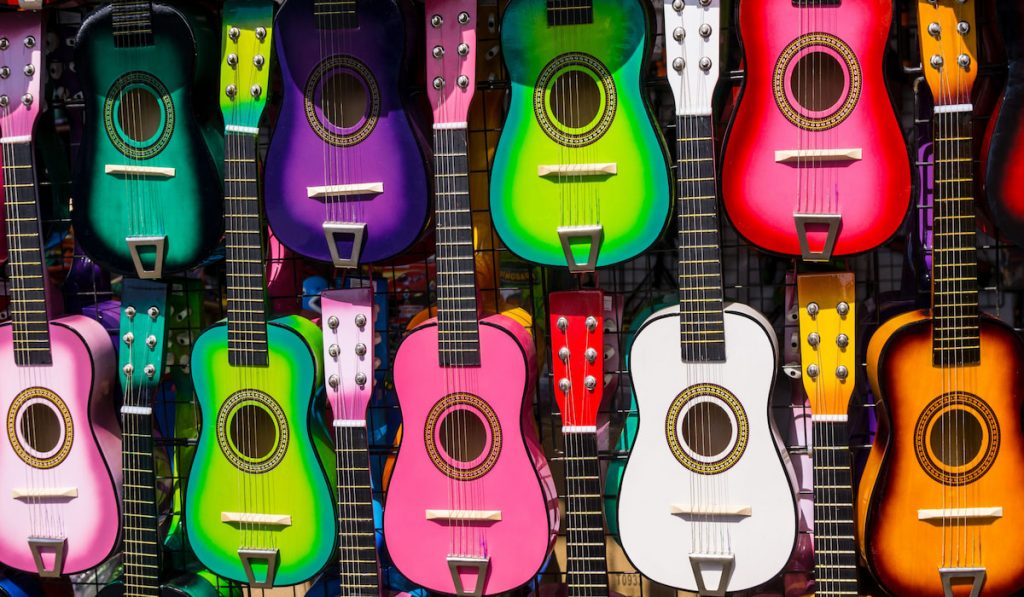 A mini is small and can be carried along when traveling.
Dreadnought
Dreadnought is the most common acoustic guitar you'll first come across when shopping for acoustic guitars.
A dreadnought measures around 20 inches wide and is ideal for the bluegrass genre. These guitars are popular for their balanced sound and powerful projection, which makes them versatile for any playing style.
Grand Auditorium
This style is a bit bigger than a dreadnought and provides the right balance between volume and sound. It's a cross between an auditorium and a dreadnought. That gives you the bass of a dreadnought and playability of an auditorium.
Jumbo
A jumbo is bigger than an auditorium guitar and perfect for country music. Although they perform like a dreadnought, jumbo acoustics have a higher bass response and a bigger projection.
Grand Concert
A grand concert guitar measures around 13 inches wide and is ideal for those with a small stature.
3. The Type of Wood Used in Construction Matters
Considering the wood used to make the guitar's body and neck is vital. The wood used also affects the guitar's overall sound, the guitar's weight, and playability.
Inexpensive acoustic guitars are made from spruce, mahogany, maple, mahogany, or walnut for their sides, backs, and necks, and the high-end guitars are made from rosewood and other expensive wood types.
Here's a breakdown of the types of wood used in acoustic guitars.
Mahogany
Mahogany is durable, simple to work with, and offers a lot of resonance, making it a popular option for guitar construction.
It's often used on the sides and backs of most guitars, although some also add it on top for that dark sound.
Spruce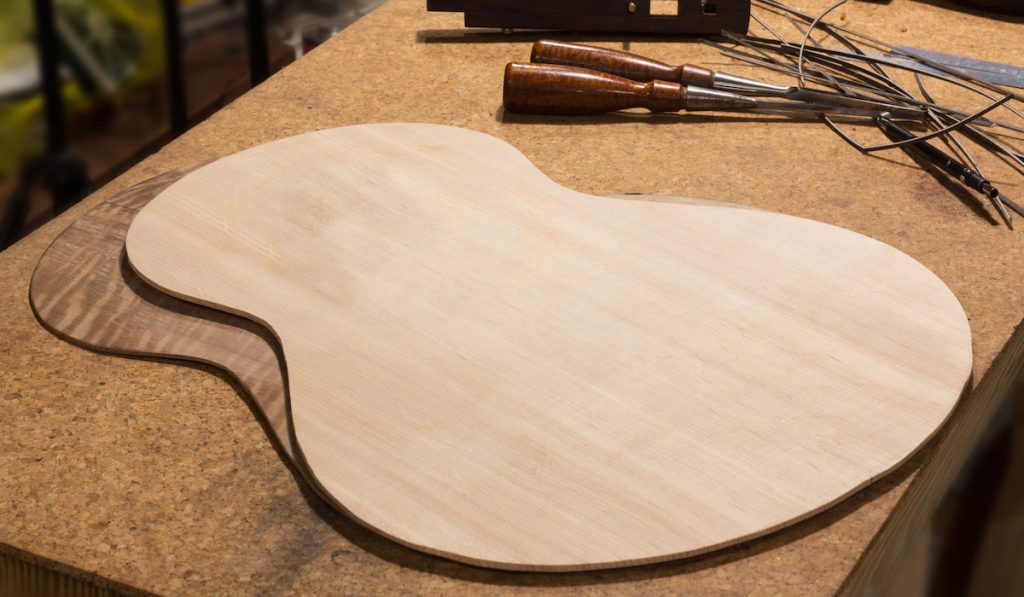 Spruce is another popular option used due to its reliability and ability to sound great. Most guitar manufacturers used spruce at the top to deliver a clear and rich tone. Although this material is lightweight, it's also sturdy.
Maple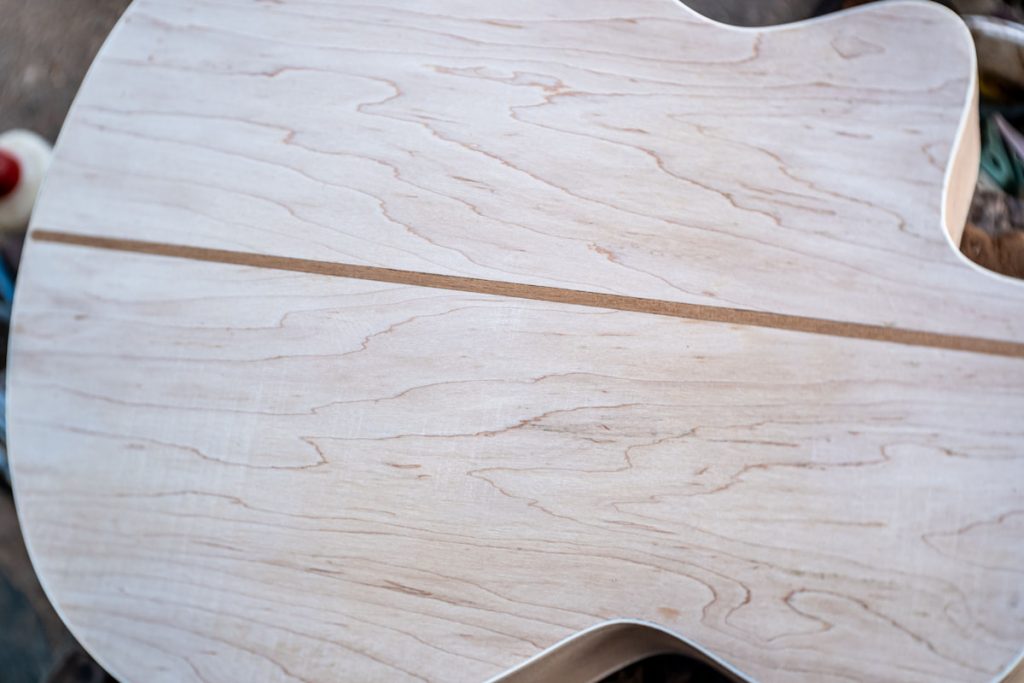 Maple has internal dampening properties and a low response rate, which leads to a dry sound with high-end tones. It's mainly used for the backs and sides.
Acoustic guitars made from maple are perfect for live bands, as their sound can still be heard even with other instruments playing at the same time.
Rosewood
Rosewood on acoustic guitars delivers a rich overtone. It's mainly used for bridges and fingerboards.
However, it's also used on the backs and sides of expensive guitars.
4. The Body Shape Matters
Acoustic guitars are available in different shapes, which can also affect the guitar's feel and tone.
The top part of the guitar's body is the soundboard. That means the bigger the soundboard, the louder and deeper the sound.
Although the specific measurements may differ between manufacturers, there are standard body shapes you'll come across when shopping. They include the following:
Travel and Mini Acoustics
Travel and mini acoustic are for musicians who travel often. The size is also perfect for children.
Most mini acoustics are lightweight, durable, and simple to pack. They'll resemble a standard acoustic guitar, but some may have a narrow body extending out from the neck.
Jumbo
Jumbos are huge acoustic guitars often used by country musicians. Although they perform and respond like dreadnoughts, jumbo acoustic guitars have a bigger bass response and projection than the other body style.
Dreadnought
Dreadnought is a common body style with a big soundboard. These guitars have a wide waist and square bouts (sides). Another distinct feature is the guitar's 14-fret neck.
Grand Auditorium and Auditorium
Auditorium acoustic guitars are similar in width to a dreadnought but have a narrower waist. The standard mid-sized guitar balances comfort, tone, and volume.
The grand auditorium body style has an hourglass-like shape with its lower bout being wider at 16 inches and a narrow waist.
With a grand auditorium being a cross between an auditorium and a dreadnought, it delivers the ease of playability of an auditorium and the bass response of a dreadnought.
Grand Concert and Concert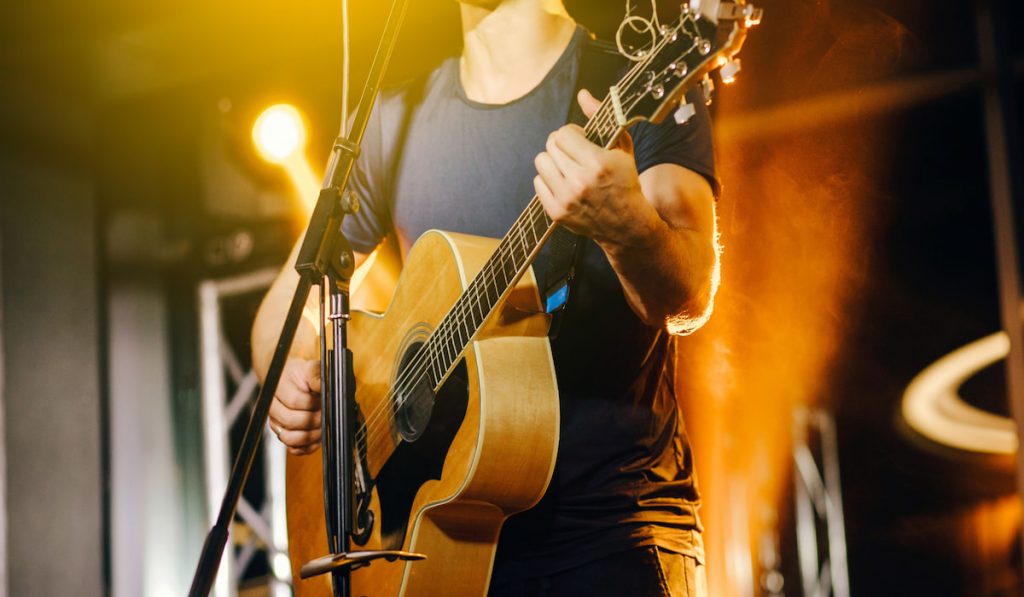 Concert acoustic guitars are smaller in size, a feature that makes them comfortable and playable for short-statured musicians.
Grand concert acoustic guitars are slightly bigger than the concert body style. These guitars deliver a powerful sound and a good midrange.
5. Cutaways Aren't Important Unless You Need Access to Upper Frets
If you prefer to access the upper frets easily, you need to find an acoustic guitar with a cutaway.
Additionally, if you're used to playing an electric guitar or often play leads on your acoustic, you may need a guitar body with a cutaway.
Acoustic guitars with a cutaway are slightly more expensive than those without because of the extra artistry required to make the cutaway.
6. Extra Accessories Can Make the Acoustic Guitar More Playable
Although the type of wood used in construction and body shape impacts how an acoustic guitar sounds, some extra features and accessories can enhance the guitar's playability.
For example, a compensated saddle improves the guitar's intonation, and a pickup makes the guitar acoustic-electric.
7. Avoid Being Hung Up on Brand Names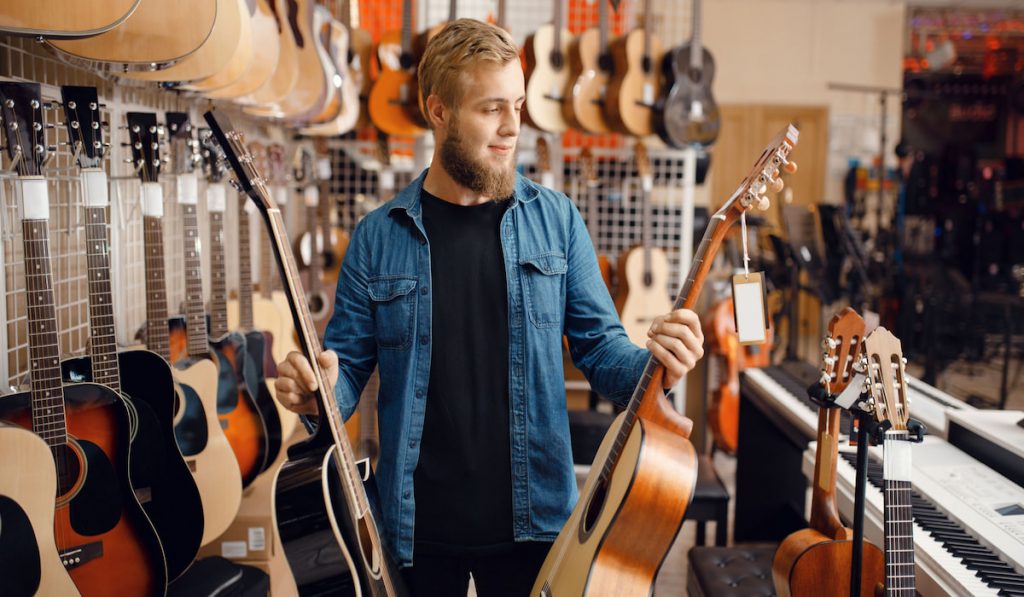 Some popular acoustic guitar brands like Taylor, Gibson, and Martin may be good, but don't get hung up on them.
As a beginner, you only need a reliable and sturdy acoustic guitar within a reasonable price range. You don't need to spend a lot on a brand-name guitar.
However, if you're an advanced-level player looking to splurge on a guitar, you can check out the available options from the brands above.
Final Thoughts
With the above tips, you can easily find a quality acoustic guitar. Ensure you try out different guitars to get a feel for them, test the strings to determine the sound and playability, and find something within your budget.
Remember that a good quality acoustic guitar should produce a clean and consistent sound, have good intonation, remain in tune, sustain a good level of volume, and be comfortable and easy to play chords.
Resources